One thing I love about being an inspirational speaker is that it is both a job and gift. It is a product that I can exchange, most often for money but sometimes for experiences – like a week of skiing in Italy! But it is also a gift that I can give to causes that I care about.
The month of March brings a rich mix of speaking engagements, bringing together all the most satisfying elements of my job.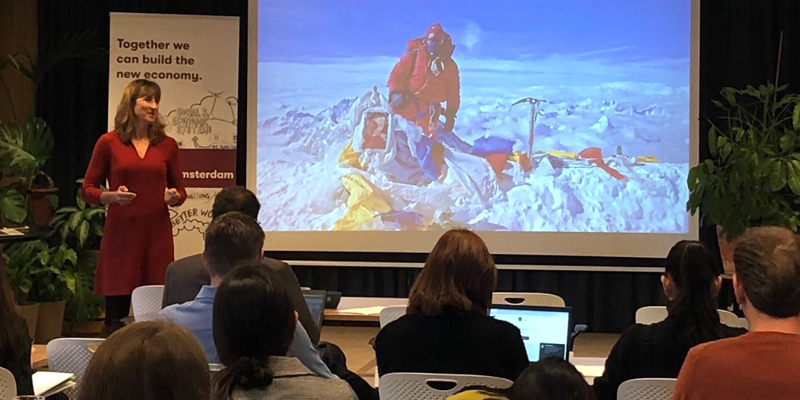 Yesterday I was in Amsterdam, giving an opening keynote at the EU regional meeting of the Sustainable Apparel Coalition, an alliance devised to promote sustainable production in the apparel, footwear, and textile industries. I met one of the organisers back in December when we both served on the jury at the 2019 ISPO Innovation in Outdoor Products awards. Taken by both her enthusiasm and the importance of the cause I was happy to donate my time. 
Now I face the challenge of packing for a trip that veers from a balmy 26 degrees C in Orlando to a chilly -11 in Livigno. But it starts this weekend in Ireland, at the Killarney Mountain Festival. I'll be doing two events for them, telling the story of the first ascent of the Mazeno ridge of Nanga Parbat (Sunday ) but also doing a pop-up workshop on Saturday 4pm), designed the answer the awkward question any adventurer eventually has to face: great idea, but how are you going to pay for it? I'll be talking about the eight funding streams that most adventurers tap into and how you can combine to support one another. 
I'll be able to stay for both days and getting to listen to other great adventure speakers is one of the big draws. I am so often the only external speaker as a big corporate event, so this is a treat. I'm hoping to hear Mick Fowler, Nick Bullock and Leo Houlding – all British legends in the world of climbing. And to see the film Dawn Wall, an extraordinary story of one of the great climbing achievements of modern times. And maybe I'll even take part in the 10k Park Run (look out for me near the back – running is not one of my talents.)
On Monday I'll fly out from Dublin to Orlando, for another big event, but of a very different kind. SSOW North America is the largest and longest running shared services and outsourcing event in the world. I'm coming to Orlando after headlining their European event in Lisbon in 2018. This time I open day 3 (Thursday) with a keynote Think Like an Explorer: Doing What Has Never Been Done Before, speaking from their main stage to an audience of 1200 people. This is one of my favourite presentations, not least because it is interactive, so the audience gets to weigh in on key expedition decisions.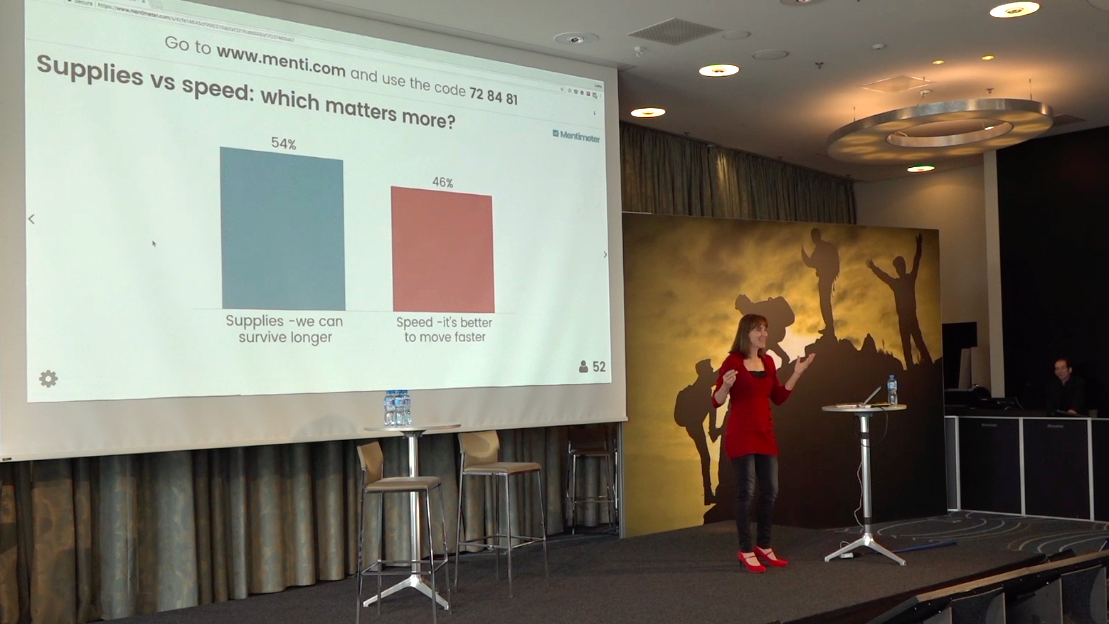 The same afternoon I get back on the plane, change in Dublin and continue on to Geneva. The location for this event is a picturesque French ski resort and the client is one the world's biggest aircraft manufacturers and their guests, the senior executives of the world's major airlines. I'll be doing a keynote just before dinner on Saturday evening.
I'll also be taking advantage of the stop to pick up some of my expedition gear that got left in the flat of a friend in Chamonix. I'll be needing it for our Mount Steele expedition in May – skiing a 5000m peak in the Canadian Yukon.
Then it is onwards, this time crossing all of Switzerland by train on Sunday, hopefully a beautiful and tranquil journey. I'm leaving behind the corporate world and heading back into the adventure space. I'm one of the faculty for the 2019 WEMski Ski Medicine course, held in Livigno in the Italian Alps. I will be staying for most of the week, doing a workshop on raising adventure funding, giving a talk on Teams In Extremes and of course going skiing!  The faculty range from Antarctica adventurers Lou Rudd and Nat Taylor, Icemaiden Team, to Prof Chris Imray, vascular surgeon and world authority on cold injuries. Again it is a great opportunity to meet and listen to both the great names and the new blood in the adventure world. 
After that I get all of two days at home before bouncing onwards to the UK to speak for a pharmaceutical company for their internal Women In Leadership event, linked to Women's History Month. It is going to be a busy month!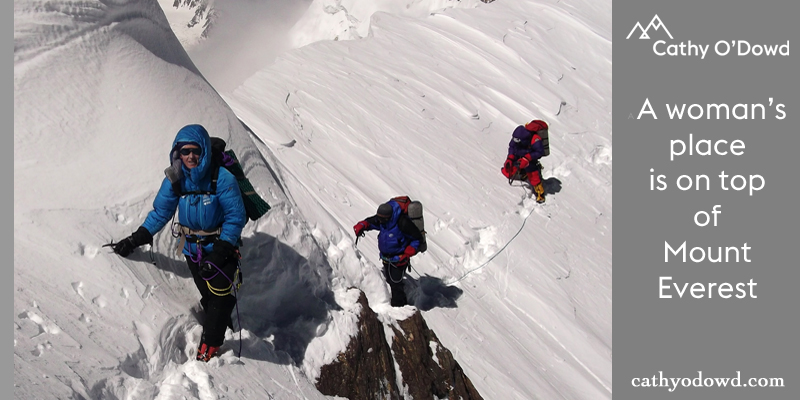 One Key Way Communication Breaks Down In Teams and What You Can Do About It
A year ago I reached the summit of Mount Logan, the highest peak in Canada. The most important lesson I learnt from that expedition was the vital importance of clear communication within a team.
"I know you think you understand what you thought I said, but I'm not sure you realize that what you heard is not what I meant." – mis-attributed to Alan Greenspan, among others

Four years ago Darren Tate, a family friend, had a major heart attack while out hiking on Blencathra in Cumbria. He was lucky to survive through the night, until he could be treated the next morning.
Young, fit and active, Darren was completely unaware he had a heart defect. Under the name Hearts of Cumbria, he then set up a campaign to get The Heart Centre at Cumberland Infirmary open 24hrs a day, rather than just from 9am to 5pm. Continue reading →

We had reached the short section of fixed rope below the Lower Saddle in the Grand Tetons when the youngster caught up with us. He had a huge rucksack and Michael joked that he was loaded like a pack mule. It turned out he was carrying gear for his father and younger brother who were far behind. "They're slow," he said, "Dad's 45." We started to laugh – both being over 45 ourselves – and he got that embarrassed look of the young having to deal with old folk. "Yeah, but my dad, he's only 45 but he acts like he's fifty!" Michael was one week shy of his fiftieth birthday.
Continue reading →

Key moments in the journey of life.
Looking back at the course of a lifetime, there are certain moments where, if you'd made a different choice, you'd be living a completely different life. Given how experiences shape character, you'd probably be a different person. It's twenty years since I became the first South African to climb Everest, but that epic, complex, controversial journey didn't begin in Nepal. It began on the slopes of Kilimanjaro. And it began with one of those key moments.
Continue reading →