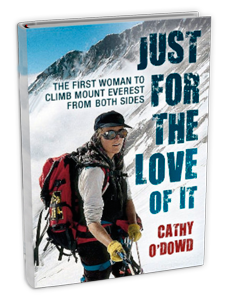 Just for the Love of It
Cathy O'Dowd's stunning book, sharing her passion for the world's highest mountain through the extraordinary story of her four Everest expeditions.
Bulk orders are available for corporate clients. The books can be custom-printed with a flyleaf that includes your company logo, conference information and event theme. The cover can also be customised if desired. Please email for further information and pricing.
"How refreshing… when there are still so many challenges left in the world, and at a time when these very qualities need to be developed in our youth, to find a young modern explorer in Cathy O'Dowd pushing her limits, 'just for the love of it'. A reason that seems as good as any, and probably better than most.

At 8a.m. on 29 May 1999 South African mountaineer Cathy O'Dowd, stepped onto the summit of Everest and into history. She had become the first woman to climb the highest mountain in the world from both its south (Edmund Hillary) and north (George Mallory) sides.
To achieve this, Cathy had to face the ultimate risks of Everest. During her first ascent from the south in 1996, she and her team were trapped in the killer storm described in Jon Krakauer's best seller Into Thin Air. They were the closest of any team to those stranded and dying in the storm. In the aftermath of the storm they retreated to base camp.
While other teams were packing up to leave they chose to try again. They finally reached the summit, only to have the thrill of success snatched away when a team member disappeared on the descent.
In 1998 Cathy, attempting the north side of Everest, stopped only a few hundred metres from the summit to try and help a dying American climber. The woman's first words were 'don't leave me'. Yet Cathy eventually had to leave her to save her own life. She returned in 1999 with a tiny team on a shoe-string budget and reached the summit once again.
The challenge of Everest is not yet over. There remain new routes to be climbed and in latest edition Cathy shares the story of her final return to the mountain – an ultimately unsuccessful attempt to climb a new route on the notorious east (Kangshung) face of Everest.
Cathy has captured the drama of her Everest climbs, her passion for the challenge of climbing mountains and her love for wild places in this story of her four attempts on the mountain.
She shares with the reader all the joys of her journey, a journey as much about self-discovery as about mountain climbing. This is a book of challenge, of adventure, of love and life and death. This is Everest, the world's highest mountain, climbed 'just for the love of it'.
The story of what she chose to do will haunt everyone who reads it.
Recent reviews from Amazon