Doing what has never been done before
A dramatic story from an award-winning new route
 in the high Himalaya.
One of the last great mountaineering challenges – the Mazeno ridge of Nanga Parbat. International climbing teams had tried 10 times over three decades – and all failed. How would Cathy's team be different?
And how did they adapt when their plan came up against the complicated, unexpected reality?
Cathy has turned this extraordinary experience into a case-study of the challenges of trying to do what has never been done before. She examines the pitfalls of operating in unpredictable, high-risk environments and identifies the key problems in executing ambitious plans in uncertain environments. Her analysis and solutions will help any strategic planner implement innovative objectives more effectively.
The speech includes live audience participation in the expedition decision-making process via internet polling.
Move beyond Everest to true innovation
With Everest, the world's highest mountain, reduced to a queue of commercial clients clipped into a fixed handrail laid out by Sherpas, it's time for real climbers to step out of the line and once more tackle the unknown.
The Mazeno Ridge on Nanga Parbat was one of the last great problems in the Himalaya, the longest unclimbed ridge on any 8000 metre peak. With a small group climbing alpine-style (fast, light and unsupported), the team of six came within inches of disaster before finally getting two members to the top – who then, with neither food nor water left, had to get down again. The summit pair would win a Piolet d'Or (the mountaineering equivalent of an Oscar) for their performance.
Cathy's analysis of how the team planned for the challenge, what went wrong in the execution and how they adapted, regrouped and eventually triumphed makes for a rollercoaster ride. She looks at the challenges and rewards of bringing together a diverse team, and digs deep into decisions and consequences, looking at how to be flexible in the planning while still focused on the goal.
---
Challenge the audience to make the decisions
This is (optionally) an interactive presentation. There are eight audiences choices.
Live polling allows results to appear immediately on the screen. The audience then learn what the experts on the mountain chose and how it worked out – for better or for worse. This allows them to really engage with the story.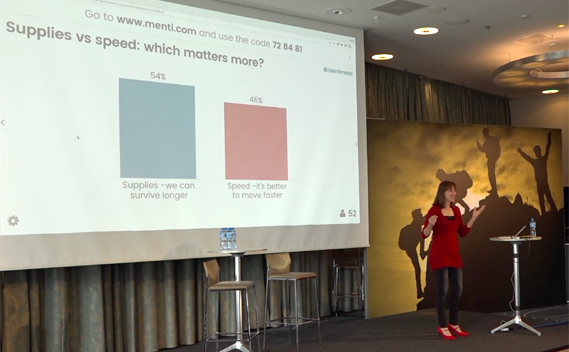 The venue needs have wifi and the audience need access to their smartphones. Cathy uses Mentimeter to run the programme.
The presentation can be integrated with client voting technology if it is already being used at the event.
---
I cannot remember the last time I was so impressed by a speaker who had such strong, relevant and inspiring messages. I would not hesitate to recommend Cathy to anyone who wants to inspire their team to know what it means to lead in the most hostile environments, how to make difficult decisions and have these messages delivered with such conviction and humility.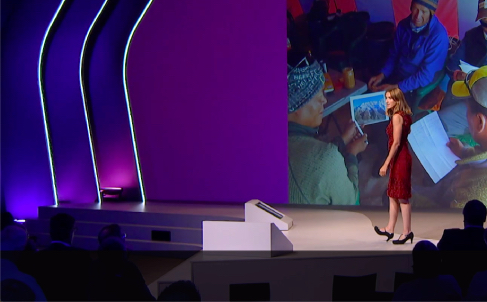 I have hired over 250 speakers for corporate clients' events globally. When it comes to finding authentic content with metaphors and tangible evidence of lessons for individual teams and leaders there are few better than Cathy. When it comes to inspirational delivery and a room full of leaders where you can hear a pin drop as she shares her story you know you have a hit on your hands. A joy to work with. Spot on timing as agreed. Wonderful visual support. Superb. The end !!