"I know you are going to succeed."
The thing about camp two on Everest – at least back in the day when there were only 11 teams up there rather than 50 – is that it is a pretty boring place to hang out. There not a lot to do, or to see.
We, as members of the 1st South African Everest Expedition, were killing time as we often did by listening to famous American mountaineer David Breashers shout important things into his radio. He was leading a team with a multi-million dollar budget featuring various international climbing superstars, there to film the IMAX Everest movie. He had never actually condescended to speak to us.
We, like them, had returned to the mountain immediately after the "great storm" of 10/11 May 1996 where five climbers had died high on the south side of Everest, including two famous expedition leaders and professional guides – Rob Hall and Scott Fisher. We were not at all sure that we were doing the right thing in trying again.
David Breashers stopped, listened intently into his radio and then turned to us. He was actually going to talk to us!
"Turn on your radios," he called. "Nelson Mandela wants to speak to you."
We stared at him in stunned silence. It sounded like a particularly lame joke. Nobody wanted to be the fool who would radio down to basecamp and ask. But what if…
A few minutes later a voice came through, faint but clear: "This is President Mandela here in South Africa."
I am so happy that you are attempting to climb Mount Everest again. Over. I am fully behind you. I have a lot of confidence in you and I know you are going to succeed. The whole of South Africa stands behind you because it is a significant expedition and I wish you all the luck. Over.
I know you are going to succeed.
The truth was that a man who had spent 27 years in prison and was now the first president of the post-apartheid South Africa did indeed know many things, from the intricacies of politics to the brutality man can offer to man. However, he knew nothing about mountain climbing. He had no idea if we could succeed. But for us, shaken by the disaster of the storm, depressed by the general conviction that trying again on Everest was foolish in the extreme, those seven words came to mean a great deal. We were going to live up to that expectation.
The first time I met the man who was then the first president of post-apartheid South Africa, I was a member of the 1st South African Everest expedition and he was our patron. We were using the publicity around the expedition to raise money for the Nelson Mandela Children's Fund and this was a press photo shoot. This was before the climb started and before we knew what a fraught expedition it would be. We were all waiting awkwardly in an antechamber, whispering nervously to each other and wondering what on earth one said to such an important man that wouldn't just sound banal or idiotic.
He walked in, crossed the room to the expedition leader, Ian Woodall, shook his hand and turned to the rest of us to say: "I've shaken the hand of an Everest man… I'll never wash it again!" We all started to laugh at the utter ridiculousness of it.
That was the kind of man he was.
I was not the first in my family to have met him. My father's older brother, Tony (Anthony) O'Dowd has an entry in the index of Mandela's autobiography, Long Walk To Freedom
. In 1943 Mandela enrolled at Wits University to study law and he wrote: "I befriended Tony O'Dowd and Harold Wolpe, who were political radicals and members of the Communist Party." (The Communist Party would be banned in 1950.)
When in 1958 Mandela was one of 92 South Africans on trial for high treason, potentially facing the death penalty, Tony was one of the assistants on the defence team. (By 1961 everyone would have been found not guilty but in 1963 Mandela would be tried again on other charges and then start his 27-year jail term. Tony would give up on South Africa and leave for the UK, to spend the rest of his career working for Lloyd's of London.)
Like Tony, my father had also studied law, but unlike him he went into business, joining Anglo American. He would become the executive chairman of the Chairman's Fund, the first and biggest professionally managed corporate social investment programme in South Africa. Under his leadership the fund would distribute some R1.7billion to NGOs, and in that capacity he would meet Mandela various times.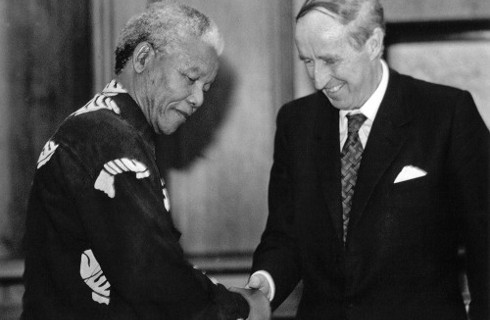 Michael O'Dowd with Nelson Mandela. I don't know when or where this was taken, or by who. I found it in my father's archives after his death.
Mandela knew what we were trying to do was not easy. The team had fallen apart very publicly before we even got to base camp, and he had issued a statement saying: "When I met the team I warned them it would not be easy and there would be set-backs…" I doubt he ever fully appreciated the power his words would have for us, as we battled our way back up the mountain after the great storm.
I know you are going to succeed.
The call was played on public radio. His words had been shared with all South Africans and we now carried the weight and the hope of their expectations. It was a cautious ascent, we lost one possible summit day (when the IMAX team reached the top) being too careful about weather. But on 25 May 1996 we too finally reached the highest point on earth, the last team that season to do so, and with the mountain entirely to ourselves.
Mandela called the team again, but this time we were too caught up in the climbing to be able to talk to him live.
I just want to say that the news came to us as a real surprise, and also a cause for jubilation because the conditions on top there were not conducive to this achievement. Our children did very well indeed.
Patrick Conroy, the Radio 702 reporter at our basecamp, took the call. Mandela asked if he could speak to us when we were safely down and began to give Patrick his telephone number. Patrick interrupted frantically. He visualised President Mandela giving out his personal telephone number live on air. He could imagine every citizen in South Africa phoning the President up at home to complain about everything from the state of the nation to the neighbour's barking dog.
Of course triumph famously turned to tragedy as team-member Bruce Herrod was killed on the descent and the media celebration quickly turned poisonous. Still, we would get to meet Mandela several times after the expedition. The highlight for myself was getting to sit on a sofa next to him in his official residence in Pretoria, show him photographs from the expedition and tell him some of what had happened during those terrible, magical, unforgettable weeks.
Over the years I have often been asked if the reality of man lived up to his almost saintly reputation and I have to say that, as best I could judge, yes it did. He had instinctive understanding of the power of his presence, how important his acknowledgment could be in reaching out to the many different constituencies that made up South Africa. But a meeting with him was more than such a public relations opportunity, staged for press cameras. He had palpable personal charisma, and most importantly, he came across as intensely, genuinely interested in the person he was meeting.
Unlike some famous people I have met, it was not about him being conscious of how honoured you were to be in his presence. It was about him, for the short time you spent with him, being completely invested in who you were and what he could learn about the world by knowing you. It was an intensely heady experience, to be offered that focused attention by such a man.
Apart from his genuine interest in who people actually were, his other great talent that I actually saw in action was his ability to see what other people I did not. Another occasion when I met him was when Ian and I attended some fancy business dinner, where the great and the good of Johannesburg society (then still largely white) were attending a gala dinner where President Mandela was the guest of honour.
I remember there as being some two hundred guests and there was a receiving line, poor Mandela had to shake hands with each one of the two hundred and listen to them gush about what an honour it was to meet him. All the while the kitchen staff (entirely black) were clustered at the service door, trying to catch a glimpse of this man who was a hero to all South Africans.
When he had finished with the receiving line, he indicated to the hosts that he would return in a minute, and then he walked into the kitchen. There he shook the hand of every worker there, from the chefs to the dishwashers, before returning to the hall to rejoin the guests. He had the ability to see the things – and the people – that most of us simply don't notice around us. He had the political acumen to understand the power of his presence to inspire others. And he had the generosity of spirit and curiosity of mind to give of his presence freely, willingly – always giving the impression that what he learnt from meeting you was more than fair recompense for the time he gave to you.
Mandela says in his book
: "The policy of apartheid created a deep and lasting wound in my country and my people… but the dictates of oppression and brutality had another unintended effect, and that was it produced … men of such extraordinary courage, wisdom and generosity that their like may never be known again. Perhaps it requires such depth of oppression to create such heights of character."
Nelson Mandela could have been writing about himself. He was a truly remarkable man, I was very fortunate to have met him, our country was blessed to have had him among us. He will be greatly missed but his words can still echo in our lives:
It will not be easy and there will be set-backs… I know you are going to succeed.