Teamwork & Leadership on the Slopes of the World's Highest Mountain
Mount Everest: the highest point on Earth, guarded by vast flanks of rock, ice and snow. Of the climbers who tackle this challenge, 75% will fail, one in a hundred will die.What makes the mountain so difficult? The obvious answers are crevasses, avalanches, blizzards. However, the real danger is commonly overlooked. It is people: yourself, your team-mates.
Reaching New Heights draws on the lessons Cathy O'Dowd learnt from her first Everest expedition. With the focus on finances and logistics, the dynamic of the team was ignored. The team collapsed into in-fighting and power-play from the first day, and three members walked out before reaching base camp.
The key obstacles that Cathy and her team-mates discovered on the mountain turned out to all come from within the team. However, they also discovered hidden tools that finally got them to the top – tools that are not about ropes and ice-axes but rather ways to manage people as effectively as possible in pursuit of your common goal.
A real-world illustration of the reasons for failure 
 and the keys to success for peak performance
The place where the worlds of mountains and business meet is with people: ambitious people tackling overwhelming challenges in high-risk, high-stress environments. These are people whose natural ability can push them towards competition rather than collaboration, yet who need to function effectively in tight-knit teams.
In mountains, as in business, there is much about the external environment that cannot be controlled. The place where we can most easily and quickly improve our effectiveness is in the attitude of our people – how focused, motivated and efficient our teams are.
Conversely, the most common problems that lead to teams falling apart are also of our own making. Most success speakers don't talk about how wrong it can go, but Cathy shares the ways in which people create their own disasters and shows how to overcome them, refocusing teams to climb to summit success.
Her stories of failure are told with humour and refreshing honesty. Her stories of success are dramatic and memorable, and the tools she highlights are as important in normal life as they are on the mountain.
Cathy is a natural story-teller and her passionate delivery creates an inspirational tale, illustrated with dramatic photographs from Everest. The contents of her presentations can be tailored to meet specific client requirements.
We received nothing but rave reviews from Cathy's guest speaker presentation in Amsterdam. As a conference producer I have hired hundreds of guest speakers and I found that Cathy is one of the few that is able to tie her amazing climbing experiences tangibly back to business management and strategy. She was a wonderful addition to our program.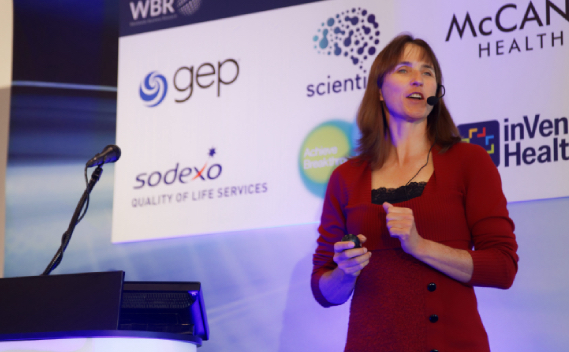 Cathy was the key note speaker at our annual convention in December 2017 and I have to say she was outstanding. Rarely do we find someone with so many fascinating experiences that captivates as she does. Cathy has a rare talent of associating her achievements with ones own business challenges and is sensitive and professional enough to allow the audience to draw their own conclusions from the discussion. Brilliant!